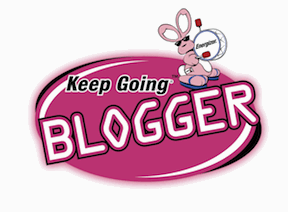 I'll be honest here and say that this post was a little tougher to write than others. If you have read this blog for some time, I'm usually talking about ideas for the walk, or praising my donors in fund raising efforts or putting up videos of people talking about their favorite 3-Day moments. I'm not usually talking about how I was selected for something, but this time I will.
Energizer® has this fantastic program going on called the Keep Going® Blogger. What it boils down to is that they are picking 3-Day for the Cure® bloggers from each of the 15 walks and simply asking them to blog about their experiences. They have gone through the process and selected me as the Dallas/Fort Worth Keep Going Blogger! I'm pretty excited about it, even if it is a little hard to put that excitement into words. Big thanks to Energizer for doing this program!!
If you haven't been to 60miles3days.com before, I invite you to keep coming back! I'll be having a weekly post with training, fund raising, packing and event tips as well as weekly video chats with walkers who talk about their favorite 3-Day moments, why they walk and much more! I realize that this post probably won't give you a real taste for what goes on here, so if you're looking for something that will give you a better idea, just check out It's Potty Time one of the more popular posts on here. I'm really looking forward to getting to talk with other walkers with this program and I'm always looking for more walkers to tell me about their favorite 3-Day experiences, if you have one that you would like to share (you don't have to be anywhere near Dallas to share it!) then just click contact above and let me know! If you're walking in the 3-Day for the Cure in Dallas, drop by the Energizer tent there and visit me. I'd love to meet you!
Thanks everyone for coming to visit and I hope to see you again real soon!
I'll wrap this up with a few links that you should maybe check out:
Energizer on Facebook and Twitter
Susan G. Komen 3-Day for the Cure
60 Miles (me) on Twitter