Every year that I have walked in the Susan G. Komen 3-Day for the Cure I have always seen firefighters while I have been on the walk. In Boston last year we walked by a fire station where the firefighters cheered us on and had a soaker hose to help us cool off. In Dallas a couple of years ago they were handing out cold bottled Gatorade. I've seen pictures of firefighters in pink fire fighting gear helping with fund raisers and I think they even did the walk in at least part of their gear. Last year in Dallas, I even saw this pink fire truck named after the wife of one of the firefighters who lost her fight against breast cancer: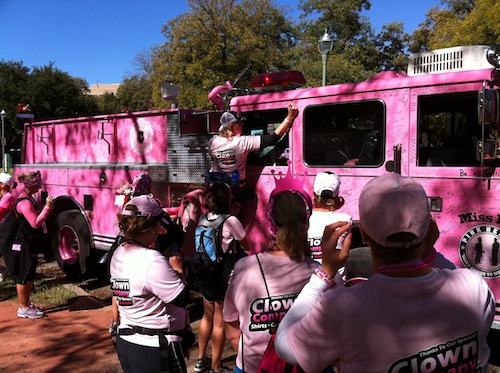 Saying that firefighters have helped in the fight against breast cancer would be an understatement. They have been warriors in the fight against breast cancer and you can see the mark they have made every year. They deserve a huge thanks, but not just for helping in this fight.
For those that read this and don't know, I live in central Texas. This year, Texas as a whole has taken a beating from wild fires. The extremely dry weather coupled with record-setting heat have made conditions ripe for massive fires. This past weekend was a rough one for the firefighters in central Texas. At least four fires broke out: a massive one in Bastrop that has destroyed over 25,000 acres of land and is still burning as I write this and three others, one of which started right outside my neighborhood.
Sunday afternoon our next door neighbor came to the door and asked if we knew what was going on.  We didn't and she told us that we needed to come see something.  We walked out of the house and immediately saw a large plume of black smoke rising from somewhere behind the house across the street.  We didn't know what it was coming from, but we could tell that something was going on because of the flurry of activity on the street.  People were loading cars up and driving off.  There were more cars out on our quiet street than I had seen in a long time.  Kristen and I talked for a moment and decided that it was time to pack up and head out too and then figure out later what was going on.  We could always come back if it was an overreaction.
As it turns out, it was not an overreaction.  A short while after we left the neighborhood, mandatory evacuation was announced for all 4000-ish families in the neighborhood.  Now we began to really worry.  If it had gotten worse after we had left, how close was the smoke to our house now.  We tried to remain upbeat though.  All of our family made it out safely (even with pets) and all the news reports that we had seen said that there were no residents injured or killed in the fire.  We were definitely grateful for that.
Despite the fire and rescue crew having too few resources (again, there were at least four other fires in the central Texas area) we were able to return to our home just shy of 48 hours after we left.  There was a bit of worry as we drove up to the neighborhood.  While we knew that the house was still standing (thanks to a little bit of geekery on my part) we weren't sure what the condition of the rest of the neighborhood was.  We had heard on the news that at least 30 homes had been destroyed and 20 more had been damaged.  My heart goes out to those people that have lost everything, stay tuned after the break for how you can help.
As we pulled up to the house everything looked intact and it ended up that it was.  Reading through some of the Facebook posts and blog entries, we discovered that the fire was stopped about two and a half blocks from our house.  Thanks to the dedication and efforts of the firefighters, many homes were saved, including our own.
As I said at the beginning of this post, I have always seen firefighters during the 3-Day for as long as I have done the walk.  I've always thought that it was great that they were out and thanked them for being there.  I do think it's great that they support a cause like the 3-Day for the Cure.  Even though I know that they are always there for emergencies, I've never thought about what that means to me.  It's because of them that my family is safe and that my house is still here.  I will be eternally thankful to them.  Even if you haven't had to have the help of their services, I encourage you to thank a firefighter the next time you see them.
If you would like to help out relief efforts for the Texas wildfires or any disaster, text the word REDCROSS to 90999 to give $10 to the Disaster Relief Fund, or go to www.redcross.org to give even more.  For those that are local to the Austin area, there are a lot of organizations taking donations.  This site has a pretty good list of several of those organizations that are taking donations not only for the fire I described above, but also for the Bastrop fire:  http://steinerranchpost.com/wiki/steiner-ranch-fire-donations-volunteers-resources/donation-spots/
Any help you can provide would be greatly appreciated.